Source: In the Presence of the Divine
Narratives of Experiences with Maha Periyaval - Volume 1
Translated by: Sujatha Vijayaraghavan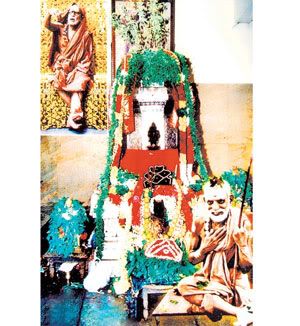 When Periyaval was at Kanchipuram, he was in
kastha mauna
for several months at a stretch. Devotees could receive Periva's darshan, but could not hear his voice.
It was during this period that a certain Chettiar came for darshan. He was like Pusalar Nayanar and had cultivated devotion to Periyaval having heard so much about him described as 'Walking God' and 'The God who speaks'. When he saw Periyava sitting silently, he thought to himself, ˜The God who speaks" has become a ˜God of silence now!". Periyava need not speak to me. But he could speak to some great scholar or an attendant of Sri Matha, with someone, anyone. I could atleast hear his voice and rejoice".
The attendants who served Periyava tried in several ways to make him speak, not intending to disturb his penance of course, but because they were moved by the disappointment and yearning of the devotees. It was then a great devotee, Tiruvetisvaranpettai Venkataramaiyer passed away. Even when this news was conveyed, Periyaval did not show the slightest reaction. Not even an hint of compassion in his eyes. The attendants were very upset. What a great soul of purity Venkataramaiyer was. Atleast for his sake, Periyaval could have broken his silence and given instructions. Or even signaled through gestures even if he did not speak! Nothing of the kind!
Brahmacharai Ramakrishnan who served Periyaval at close quarters could not contain his disappointment. His feelings pored out in a torrent of words.
"Why are you so silent? If you stop speaking, will the earth rise a foot higher? Or will the night turn into day? Tiruvetiswaran Mama has expired. He has no children. No one knows what is to be done. What is going to be lost if you give us some directions?".
There was not the slightest movement or reaction.
Brahmacharai Ramakrishnan prostrated four times as if seeking pardon for his words and went away. Five minutes later he returned.
"A Chettiar has come. He has being doing penance to hear Periyava's voice".

Periyaval smiled. It was an utterly extraordinary and the rarest of sights. The attendant broke into sweat under the sway of emotion. ˜How many months had passed since Periyaval smiled like this!"
Periyaval gestured to the Chettiar to come closer. Picking up a mango fruit from a plate nearby, he placed it on his chest and gestured to the attendant that the fruit be given to Chettiar. Periyaval never did such things when he was in
kastha mauna.
But if a devotee prayed earnestly, must not the prayer be granted?
If one's resolve is broken, atonement can be made. But a devotee must not be sent away disappointed!
˜This is enough! Enough! Periyava's penance should not be disturbed. I have truly seen the Lord of Kailasa. This is enough for this birth" said the Chettiar in great joy and left.
One does not know if Brahmacharai Ramakrishnan's ignorance left him or not. But one arrives at wisdom only when one ripens, so to say. That is enough.