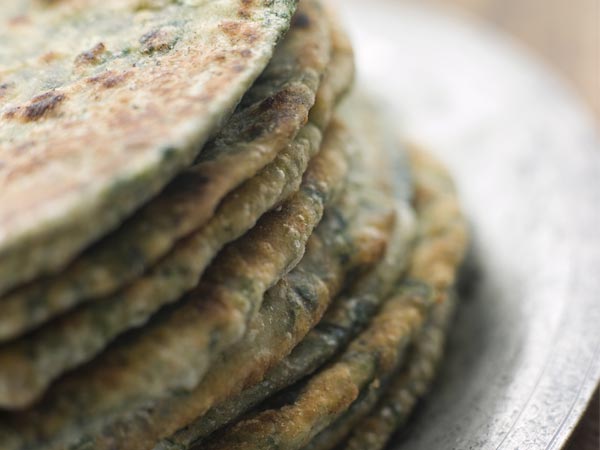 Serves: 4

Preparation Time: 25 minutes
Cooking Time: 30 minutes

Ingredients:
Spinach- 1 cup
Paneer- 500 gms
Wheat flour- 2 cups
Chilli powder- 1tsp
Cumin Seed powder- ½tsp
Turmeric powder- a pinch
Ajwain seeds- 1tsp (roasted)
Green Chilli- 1 (sliced)
Coriander leaves- ½ cup (chopped)
Salt to taste
Oil

Method:

Wash the palak leaves and keep it aside.
Cut the palak into fine pieces and keep it in a clean bowl.
Now grate the paneer using a grater and keep it aside.
In a mixer, puree the palak leaves and the green chillies together to make
a paste.
Make a dough out of the atta and add the puree to the dough.
Add in the turmeric powder, cumin seed powder and the ajwain seeds to the
dough.
Now add salt to the mixture.
Now add in the paneer to the dough and make a circular roti using a rolling
pin.
Place a tava on a medium flame and when hot, place the palak paneer roti
on the tava.
Allow the roti to fry till it turns a golden brown in colour. You can also
add ghee to the roti when fried.

Your palak paneer paratha is now ready to be served. Serve these parathas
with curd or spicy chutney.